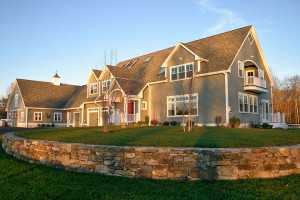 This custom farmhouse includes 6,000 square feet of living space with an attached stable. It is designed around a two story foyer and open plan family room with adjoining kitchen and dining area, has bedroom and office space on two levels, and is climate controlled by a state of the art heating and cooling system. It features three decks, a partly recessed second floor balcony off the master bedroom suite, abundant skylights, and a unique third floor observation deck. Large windows throughout frame panoramic views of the surrounding fields and fill the rooms with light. The 1,500 square foot stable contains three stalls, a washroom, feed room and tack room, and can be accessed from the house through a side hallway.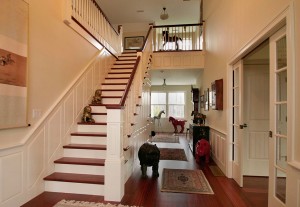 We met our clients over twenty years ago, when they asked us to design a new home on a large parcel of land they had purchased in Upton, MA  to establish a horse farm. Although that home served them well for many years, they decided to subdivide a smaller piece of land from their original property and build another, more consolidated house, and divest themselves of the upkeep of a large, multi-building property. Of course, their three horses, four cats and a dog were all coming with them. Liz and Dave are sophisticated world travelers, equestrian and nature enthusiasts, and this unusual house allows them to showcase their global artwork, entertain friends and family, pursue interests from their home offices, and enjoy the four seasons both indoors and out.
View the completed house in our portfolio here. View the full design-build process here.