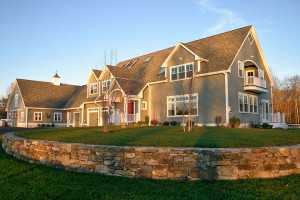 This custom farmhouse includes 6,000 square feet of living space with an attached stable. It is designed around a two story foyer and open plan family room with adjoining kitchen and dining area, has bedroom and office space on two levels, and is climate controlled by a state of the art heating and cooling system. It features three decks, a partly recessed second floor balcony off the master bedroom suite, abundant skylights, and a unique third floor observation deck. Large windows throughout frame panoramic views of the surrounding fields and fill the rooms with light. The 1,500 square foot stable contains three stalls, a washroom, feed room and tack room, and can be accessed from the house through a side hallway.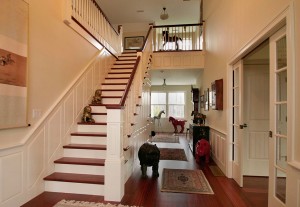 We met our clients over twenty years ago, when they asked us to design a new home on a large parcel of land they had purchased in Upton, MA  to establish a horse farm. Although that home served them well for many years, they decided to subdivide a smaller piece of land from their original property and build another, more consolidated house, and divest themselves of the upkeep of a large, multi-building property. Of course, their three horses, four cats and a dog were all coming with them. Liz and Dave are sophisticated world travelers, equestrian and nature enthusiasts, and this unusual house allows them to showcase their global artwork, entertain friends and family, pursue interests from their home offices, and enjoy the four seasons both indoors and out.
View the completed house in our portfolio here. View the full design-build process here.
The Design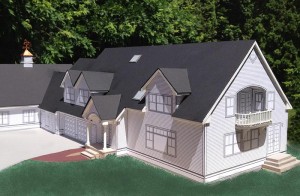 Our clients were very involved in the design process, and had an excellent idea of what they wanted the house to look like in plan. After the elevations were completed, they asked us to build a scale model  of the house so they could preview it in three dimensions.  The house was to maintain the basic style of their original house, but is designed around one large family room  that contained all the daily living, dining, and cooking functions, with a master bedroom suite above and an additional suite consisting of a bedroom, bath and study on the first floor.  A large garage, attached utility shed, two additional second floor bedrooms, and other functional elements completed the design program. An attached, three stall stable was to be located on the far side of the house.
To satisfy the client's desire for this relatively large house to appear less massive, it was designed using only partial second floor walls, concealing some of the second floor's volume under the roof lines, with gabled dormers emerging from the roof on both front and rear elevations. Thee structural challenges of conforming with current building code requirements for snow and wind loads presented by the multiple roof lines and long interior spans were resolved by using some large, engineered structural elements.
An additional challenge was satisfying our clients request for a completely maintenance free home, while using materials of high quality and esthetic value, which resulted in an exacting and lengthy selection process, with many samples left behind. The results can be seen in the photos below as the exterior of the house took shape.
The Construction
We maintained quality control throughout the project by the presence of an on-site construction manager with extensive knowledge of all the trades involved, who is also a skilled carpenter, able to perform the work required to facilitate and bridge our subcontractor's work.  We worked with professional engineers to finalize the location and orientation of the house on the site and design and locate the many services that would be required, such as septic, water, drainage, electricity, security, and propane, which was used for both heating and auxiliary power. The electrical and mechanical services were vendor engineered in collaboration with our team of subcontractors, with whom we have maintained longstanding relationships. We were also in daily communication with our clients, both in person and by email and phone, to assist with and coordinate the multitude of decisions required and assure that their expectations were met.
Our clients, who had the unusual advantage of living next door while the house was being built, were able to witness and collaborate on the entire design/build experience,  a process that enabled this large and somewhat complex project to be built on time, exceed their expectations and  be constructed within their budget.
They were able to move in approximately one year from the start of construction and are looking forward to spending their first spring in their new home.
"Building a new house can be nerve-wracking and full of apprehension; but not for my husband and me this past year! It's hard to fully describe how smoothly everything went from the first meeting with our architectural designer, Michael Gelb and our builder Mike Zayac. Their orientation was quality first. They hired superior subcontractors: employees with great skills who worked with pride. We have been so fortunate to have had them build our house and have been completely spared all the dire warnings. Our experience has been free of strain, trauma and hassle. When the building inspectors did their final check of the house and I bumped into one of them a few days later he declared 'What a magnificent house." and he joked, "We tried our best to find something wrong. Not a chance!".
–Liz and Dick Benney
View the construction and completed house in our portfolio here