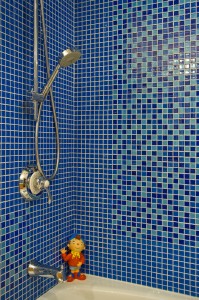 Over the years, we have seen a major transformation in how spaces within the home are utilized. Kitchens, once a space solely to prepare meals, are now areas that accommodate the gathering of the whole family. In this same way, master bathrooms have become much more than a room that provides the normal bathroom necessities. Whether your interests lie more in form, function or both, here are a few considerations when beginning (or thinking about beginning) a master bathroom project.
1. Determine your needs and desires
Before the starting the actual planning, it is helpful to examine and understand the motivations for your project. Is the bathroom going to be a space for luxury and relaxation, or do you simply want a better functioning space with some upgraded fixtures and finishes? Additionally, homeowners are now planning to stay in their homes longer than ever before, which means considering the need for universal design, specifically the concept of "aging in place".  If your master bathroom remodel includes planning for retirement and beyond, you may want to consider incorporating elements of universal design. Many projects will include all three, balancing universal design concepts with overall better function and greater luxury. Here are some factors to keep in mind, depending on your goals:
Increased Function
Greater Luxury
 Universal Design

More cabinet and storage space
Improved task lighting
Location, size and shape of mirrors
Ease of cleaning
More ergonomic and efficient fixtures
Location of electrical outlets for accessories
Add a closet inside the bathroom
Replace or reconfigure existing windows

Multi-head shower
Jetted or soaking tub
Double sinks
Separate toilet room
Higher end finishes for counters, fixtures, surfaces and lighting
Radiant floor heat
"European" style glass shower enclosure and door
A more generous, open space

Wide doorways with flush thresholds
Accessible fixtures
Lever handles on doors and fixtures
Shower with flush opening and larger door
"Walk-in" bathtub
Grab bars and railings
Non-slip surfaces
Location of light switches and outlets
Take plenty of time to determine your priorities and be sure to communicate them clearly to your bathroom designer. Often a written, prioritized "wish list" serves this function well.
2. Consider the options: remodel, expand, or create new space?
| | |
| --- | --- |
| Floor Plans: Once you have considered what you need and want in your new bathroom, some of the important questions are now: what are the options that will provide the best space?; is it in our budget?; and, what will it take logistically to make it work? The size and configuration of your bathroom, whether or not it remains within its existing footprint, has additional space taken from another room or added anew, or built as an addition in its own right, are key factors in determining its scope, budget, and timeline. Helping you resolve and balance this challenging combination of issues to your satisfaction is one of the primary purposes and greatest advantages of working with a competent, creative, and reputable Design-Build team.Light: Where will it be coming from? Light is often one of the most complicated aspects of a bathroom design – how do you protect your privacy, reduce distracting glare and reflection but also allow the sun to shine through? Many new projects use skylights or other light-garnering features, including translucent partitions with adjacent spaces. What is the best combination of available and artificial light sources for both ambient and task lighting? A lot of reading often occurs in the bathroom and it's helpful to plan strong, realistic lighting for shaving and makeup application.Volume: Often overlooked is the possibility of opening the ceiling partially or fully to the inside of the roof structure to create a greater feeling of light and space. Will creating this aesthetic be worth the additional time and expense it may add to the project? | |
3. Consider Resale Value
While you should always remodel the master bathroom to better suit your needs, careful attention should be given to improving the resale value of your home while you are at it. There is no doubt that kitchens and bathrooms play a big part in selling a home.
Visuals sell the space: A successful design should cause perspective home buyers to walk into the bathroom and immediately imagine themselves at home. The secret to this, and how to create desire within the home buyer, relies on the visual choices you make for your project. The three key areas to focus on are surfaces, colors, and fixtures. These have the greatest impact on a person's perception of the space.
Closet space: Many bathroom designs include the creation or expansion of a bathroom closet. Custom closets improve the resale value of a home, but should not feel out of place.  Closets should be easily accessible without intruding on the personal space around bathroom fixtures. A new or remodeled closet also provides an opportunity to customize it to your needs.
Plan for two: Always keep in mind the idea of two people being able to use the space at the same time. Consider a separate, private toilet area, multi use shower and/or bathtub, double sinks and medicine or other storage cabinets.
And finally, when considering the design, a big question can often be:
"How does a tub in the master bathroom affect the resale value of our home?"
In our experience, if there is another bathtub in your home, it is often not essential to include one in your remodeling project. If there are no other tubs, however, strongly consider including one and, if the space is large enough, a comfortable soaking or jetted tub can often be an attractive feature in a master bathroom, especially if it gets used–and it's usually an attraction for house-sitters and visiting relatives!
4. Keep Your Selection Process Organized
Keeping the multitude of ideas and details in a bathroom design organized can be challenging. We know from experience that it is easy to lose track of important information. To prevent unnecessary headaches and reselections, try to keep all your ideas and samples in one place. You will be collecting plans, sketches, photos and/or drawings of plumbing and lighting fixtures, samples of cabinet finishes, counter tops, pieces of wall and floor finishes as well as paint colors. It is ideal to organize as much as possible in virtual files (and/or in a physical folder or binder) and keep all your samples in one convenient place with descriptive information attached.
We provide our clients with a spreadsheet listing suggested vendors that has all the selections that are required for your project with spaces to fill in information about manufacturer, style, color, and other information. In addition, once the project is designed, we will provide you with a week by week timeline of how the work is anticipated to proceed, what is required on your part and when it needs to happen.
The website Houzz is also a wonderful resource for bathroom remodeling ideas. Instead of a folder overflowing with magazine clippings, you can create your own portfolio on the site and share it with your designer and friends online.
In summary, we have found that starting with the most general sense of the project and methodically working toward greater specificity is the least stressful, most efficient way to proceed. And working with an experienced, creative, design-build professional from your project's concept through its final completion is what we believe achieves the most successful results!