Design/build is a form of contracting where one source performs both the design and construction phases of a project, taking it from the initial concept (or a concept at some stage of development) through completion of construction.  We work and communicate as a team, allowing us to integrate all phases of the work.  The results are realistic design solutions, better cost controls, and expedited results.  The design changes which often occur during construction can be handled quickly and efficiently on site, resulting in greater productivity and reduced construction time.  We are fully accountable to our clients for all aspects of their project, providing an additional level of comfort and trust.
Although every project has its own unique challenges and requirements, there is a basic process that they share, which is shown in the diagram below. Click on the blue boxes for more information.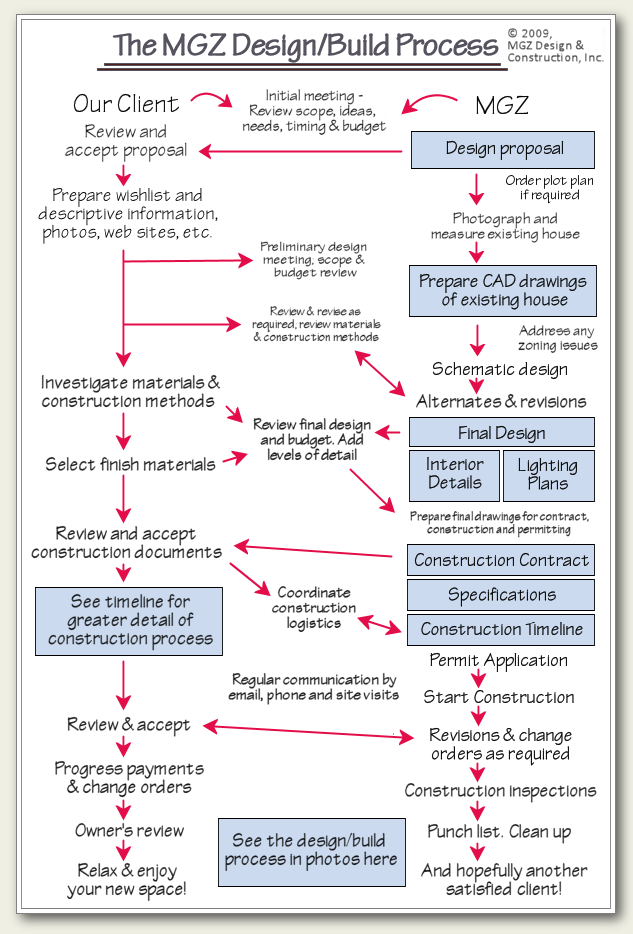 In addition, we try to be as flexible and accommodating as possible when considering our client's needs. If you have a project that is already designed, we can do just the construction phase or work with your designer or architect from any point in the process.  We also do stand alone design work for projects that are out of our geographic construction area or otherwise not available for us to build.  No matter what your needs, our knowledge of design and construction can be applied to your benefit.
We are always available to answer your questions and respond to your comments about any project you may be considering.