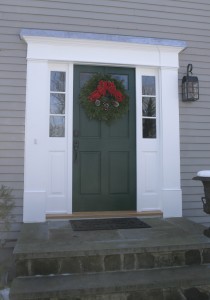 Overview:
Our client in Sherborn, Massachusetts had for many years looked forward to changing the unimpressive, stock front entry of her colonial style home. She wanted a more authentic entryway that would add interest and substance to the front elevation and upgrade other front elevation details at the same time. And she wanted it for the coming holidays, about a month away.
Although a small, self contained project, it offers an excellent example of the design/build process at work.
The Design/Build Process:
She had received several quotes using stock components that did not match her vision; the solutions offered would not change the basic look of the entryway. It was at this point that we were referred by her landscape designer, also a design/build professional who was familiar with our work.
MGZ approached the situation differently. After an initial visit and preliminary quote that did not meet our client's needs, we returned for a second meeting to gain insight into her vision and assess the options. We asked her to email photographs of front entrances she found appealing, and she provided a rough sketch as well. Using this information, we researched available door materials, styles, and trim components, and concluded that a custom solution was definitely required. While this approach was not as cost-effective, MGZ was confident that this was the only way to ensure a successful project and satisfied client and she agreed.
After considerable back and forth discussion regarding door styles and other details by email, a schematic drawing, specifications and a modified proposal were accepted. The project was to include "bullion" glass lites in the new door and a detailed door surround with a copper cap that added depth and interest to the front entryway. We met again to review the project, discuss the construction schedule and other practical considerations and sign the construction proposal, confident that we were now in clear agreement on all aspects of the work.
Now we needed to build the front entry and install it before the rapidly approaching winter holidays, while keeping their home as warm as possible.
Construction and installation
Once we received the door unit, we constructed and painted the entire entry assembly in our shop which was then delivered to the job on the day of installation. As a result, we were able to remove the existing entryway and install the new one in one day, keeping the house as warm as possible. On subsequent days the remaining exterior and interior trim were installed and the project was substantially completed within the week, including patching the siding back into the house and adding more decorative moldings, also with copper caps, to the first floor front windows. We fortunately had a warm day to touch up the paint, pending a more complete spring painting, and the new entry was ready for a holiday wreath. We returned at a later date to install high quality storm doors to both side and front entrances.
Our clients response speaks for itself:
"From the moment we moved into our home in Sherborn, we wanted to change the front door surround. Fourteen years later, we finally got serious. MGZ came highly recommended. After interviewing several design build firms, we hired the MGZ team and were extremely pleased with the results. They listened to our needs, designed some options, collaborated with us to come up with the ideal design and delivered a high quality solution–on time and on budget. Our main goal was to keep the look authentic and traditional. The quality of workmanship and attention to detail was excellent and the people were very pleasant to work with. We could not be happier and would gladly recommend their exceptional services to any homeowner interested in building or remodeling their home!
Thank you!" – Jamie Shone, Sherborn, MA
For products used in this project see: http://www.simpsondoor.com/door-products/
http://www.stormdoors.com/